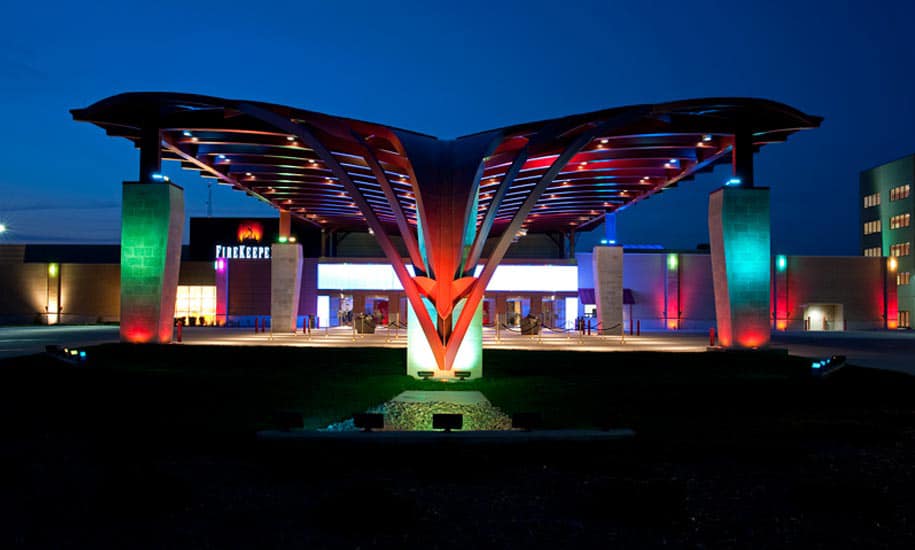 Join Travel Treasures and Tours on one of our many bus trips from Metro Detroit to Firekeepers Casino as you ride safely and comfortably on a deluxe motorcoach.  Firekeepers is home to 2,900 of the latest slot & video poker games, 70 hand-dealt table games, Bingo hall, Keno, and a luxurious hotel. Restaurants include; Nibi's fresh local fare; Smoke 'N Fire's classic American food with BBQ undertones; the Mijem Buffet's seafood, Asian, Italian and American cuisines; and the newest craft beer experience in Battle Creek at Dacey's Taphouse.
Who is Travel Treasures and Tours?
We are the Premier Tour Bus Company in Michigan, serving the greater Detroit Area. As of 2019 we have been running trips for over 13 years.  We specialize in Senior Bus Trips and Tours to your favorite Casinos and Sightseeing trips for the lowest rates you can find. You get all this without sacrificing safety or service.   We offer everything from Casino Day Trips, Casino Overnighter Trips, Extended Bus Tours, Sightseeing Tours, and much more. One of our most popular casino day trips is to Firekeepers Casino in Battle Creek.
Why should you pick us for your travel needs? Pros vs the Cons
The cons of driving your own car to Firekeepers Casino.
High Fuel Cost: A round trip to Firekeepers from metro Detroit is around 250 miles, factor in fuel efficiency of 25 mpg and the price of fuel at $ 3 a gallon this trip will require around 10 gallons of gas, which amounts to a fuel cost of $30.
Wear and Tear of your Vehicle: Your car is a machine and the more you drive it, the more maintenance it needs to operate efficiently, cost of servicing, repair and maintenance, and mileage, can be quite high depending on the type of car you own.
Stress in traffic: Driving can be highly stressful when you are stuck in a traffic jam, which is a fact of life in far distances, especially during rush hour. Driving-related stresses can cause heart diseases, psychological problems, and quite simply can stress you out.  And who wants to be stress out before going on a trip to a Casino?
The pros of traveling with Travel Treasures and Tours on a luxury motorcoach.
Free to do other things: Since your hands and feet are not occupied, you are free to read a book, type a text message, eat and drink, possibly watch a movie, observe the passing scenery, or close your eyes and sleep. Riding with us allows you to sit back and relax.  All while letting our professional driver do the rest.
Meet interesting people: Since many of the people on the bus are casino lovers as you are you will get the opportunity to meet new people with the same interest, and If you don't mind talking to people you don't know, then you can even make a new friendship.  We've even had travelers start booking together on future trips, including overnight bus trips.
Escort on Board: On the large majority of our trips you will be accompanied by a tour director or "escort".  The escort's job is to help facilitate the trip and to make ensure all the travelers are happy and comfortable.  To do this our escorts will play games, raffles, and put in movies to help pass the time and make for a more enjoyable bus trip.  The escort will also provide light snacks and refreshments (typically water) on the motorcoach as well.
Perks: Upon arrival receive $20 in Coin and $5 in food (points).  There are several dates that we run the bus trip when specials are occurring as well.  On these select casino bus trips the casino incentives maybe even more.
Welcome aboard
With all these advantages to traveling with Travel Treasures and Tours on our bus trips to Firekeepers Casino, it's clear to see why this is one of our most popular trips for senior travelers.  If you have any questions please don't hesitate to call for more information and find out why we are one of the fastest-growing Tour Bus Companies in Southeast Michigan.  We hope to be traveling with you soon!