We work with all Senior Centers
Travel Treasures and Tours specialize in helping and working with all different types and sizes of senior centers. We will work with any senior center's activity director or coordinator that want to make their senior center's travel fun and enjoyable with low cost. We offer a variety of casino trips, sightseeing tours, and shopping trips that can help diversify your recreation center's needs.
Our goal is to work side by side with any senior recreation center in Metro Detroit. Bringing your center a low cost and memorable travel is our purpose. If you are an activity director and or an activity coordinator please feel to contact us.  Our customer service satisfaction is guaranteed, we treat everyone like family. We want to Hear from  You!
Years of Experience with Seniors
Here at Travel Treasures and Tours, we cherish our senior travelers and have the most utmost regards to making sure they have a great and memorable time when traveling with us. Bus trips and tours are something we have been doing for 14 years. We have become the best tour company in Metro Detroit. By going the extra mile to take care of our senior passengers and offering them the lowest rates on travel.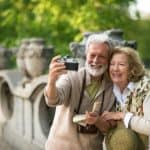 The Leader of Senior Center Travel
We work with both small and large senior center as a result we can offer better tours than any competitor. If you have just a few people who want to travel or a large group we can find or custom makes your travel needs. We currently offer a large variety of trips for your senior center to choose from, having trips that are already dated to go can help you choose what works for you best.
Low-Cost Bus Tours for Our Seniors
Understanding our senior traveler's budget above all helps us make the right choices on setting up low-cost senior-friendly tours, without sacrificing service and value we are sure you will be extremely happy with our service and tours.